Chili Technology Chilipad
Chili Technology Chilipad
Free Delivery in 1 to 2 weeks via Small Parcel
Single or dual temperature control available (dependent upon model)
Dual zone will maintain two different temperatures on each side of the mattress surface
Temperature control ranges from 46°F up to 118°F
Wireless PLS Remote Control Unit with temperature display and diming function
Programmable sleep timer available with each control unit. Automatic shut-off after 10 hours of continued use
A comfortable, cost effective way to reduce your heating and cooling bills
Medical grade silicone tubing allows for a seamless circulation of water
No special water requirements (preferred distilled water)
Fluid volume is 2 Liters per control unit
Spart Power Supply adjusts voltage automatically
Power usage: 110Vor 220V
Machine washable in a front load washer. Line dry recommended
Can be used with your current sheet arrangement and mattress protector
Powered with a small water pump and computer chip; the only audible noise is that similar to a desktop computer
Safety tested, durable poly carbon material, that isn't easily punctured by small animal claws, or under normal human use
Effective weight range up to 500 lbs per zone
Power cord is universal - travel friendly
ETL, CE approved
Customers Also Considered

►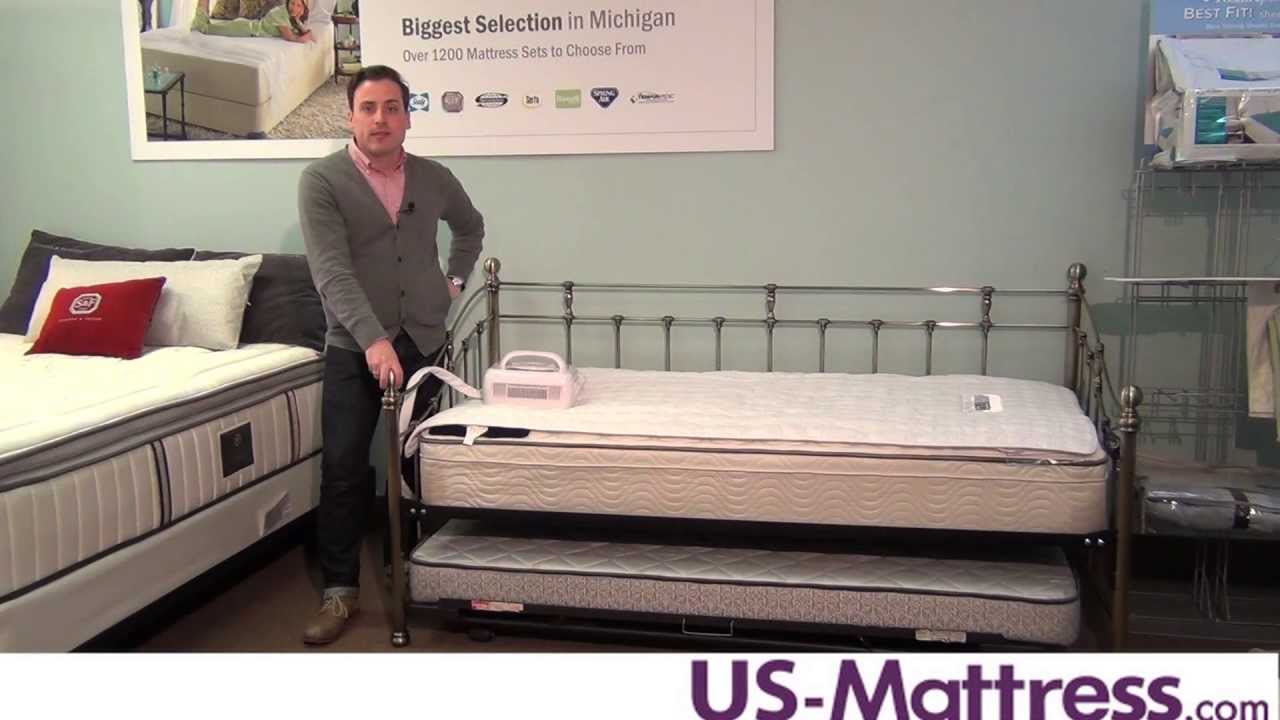 The new and improved ChiliPad is a micro-climate thermostat control system that cools AND heats your bed! Now powered by the CUBE 1.0 system. These new upgrades cool your mattress faster, more effiecently and more quietly than our previous models. An innovative mattress pad solution that will fit any sized mattress, this system allows you to control the temperature of your bed like you do your home or your car. Turn the temperature down to 46°F or up to 118°F, you decide the right level of comfort for you and your partner. Insomnia research has shown that sleeping at temperatures between 60-68°F greatly improves your ability to fall asleep and stay asleep. Available in single and dual zone, you can use your mattress pad with one zone or two zones with separate wireless controls.
Specifications
Type
Mattress Pad
Features
Temperature Control
Materials:
Cover: 200 Thread Count Poly / Cotton Blend
Dimensions
Twin: Width: 38", Depth: 75"
Twin XL: Width: 38", Depth: 80"
Full: Width: 53", Depth: 75"
Queen: Width: 60", Depth: 80"
King: Width: 76", Depth: 80"
Cal King: Width: 76", Depth: 84"
3 Year Manufacturer Warranty Included
Vendor Item Number
CP501, CP502, CP503, CP504, CP505, CP506, CP507
Page Code
M-367846
Delivery Info
Free delivery on everything, every day! This item arrives via UPS/FedEx in 1 to 2 weeks.

We deliver anywhere in the continental 48 states that is road accessible.

Delivery is available to Alaska and Hawaii for an additional fee but the order must be placed by calling us. While we do not deliver internationally, we can deliver to your US based freight forwarder if you have those arrangements in place.
Let Us Help Pick
What's Right
For You
Contact Us

1-800-455-1052

Chat

Email
Reviews
Saves me so much money
Now that it's winter I can set the heat down to 65 at night when me and my wife are sleep. We've seen a nice drop in our heating bill and we are excited about the summer to see how much we will save without having to run the AC all night. This 1 time cost will save a ton of money in the long run!!
Cool Night Sleep! :)
Our hone AC is NOW set to 70 at night, (64 before,we do not sleep well in heat). Our Chill Pad keeps our bed NICE and COOL, I sleep "Hot" so I have my temp set lower, than my husband. Duel Controls,are a nice feature. You do not feel the coils in the pad, when lying in the bed. A few things you should know about the cooling/heating units; The instructions say give 1 foot clearance all around (we have a low style bed, they do not fit under our beds?so they sit out in the open :( ). The control lights "Glow" at night, your room will NOT be "Black". Also the C/H unit comes off and on during use?with fan(s) that are about as loud as a window air conditioner unit. BUT...We LOVE our Chill Pad, and are excited to see our next utility bill?it should be much lower. The few inconvenience are worth a COOL Night Sleep! Our bed will be nice and warm in the winter without heating the total house!
chili pad works
The chili pad helps me sleep cooler since I usually wake up too hot. That's what I use it for. [...]