What Are Mattress Sizes?
What Size is My Mattress?
Mattresses come in different sizes. Each mattress size is designed to fit a specific need. Factors like room size, how active of a sleeper you are, and whether or not you share a bed influence which size best suits your needs. Our mattress size information guide is here to help make your choice easier.
So, what are the different mattress sizes, and what is the right mattress size for you? Check out our chart of mattress dimensions and read through this article to find out.
See our Best Mattresses of 2023 article to see the top choice for any size.
See our list of the best mattresses in a box for more options.
Mattress Size Chart
| | | |
| --- | --- | --- |
| Size | Dimensions | As Low As |
| King | 76" x 80" | $439 |
| Cal King | 72" x 84" | $499 |
| Queen | 60" x 80" | $199 |
| Full XL | 54" x 80" | $489 |
| Full | 53" x 75" | $279 |
| Twin XL | 38" x 80" | $239 |
| Twin | 38" x 75" | $169 |
Tip: When measuring the width or length of a one-sided mattress, it's best to flip it over to the bottom side. Then take your measurement at the center of the mattress. Doing this ensures you get the most accurate measurement because the corners are rounded and the top of the mattress is not as flat as the bottom.
Designed for couples
Good for extra shoulder room

King Size Bed (76" x 80")

How Big is a King Size Mattress?

The best King size mattresses are designed for couples who need a larger mattress and love extra space while they sleep. Great for sharing a bed with an active or very light sleeper, king-size beds provide plenty of space for one person to move without disturbing their sleep partner. Be sure to measure how much floor space a king will take up before buying one.

King beds are the most expensive option available in most mattress collections. Mattress manufacturers offer virtually every model they build in a King size so there are plenty of options available to purchase. Additionally, the standard king has more options for bedding accessories. Things like box springs, sheets, adjustable bases, and comforters.

The regular King bed size is the widest of the standard mattress sizes. It gives you more shoulder room to sleep comfortably with your partner. The extra width of a king mattress would give you all the space you need. People who have kids or pets joining them in bed may also find the wider size preferable.

Related: When to Upgrade to a King

It's important to choose a bed that fits your space. It's a good idea to get a measuring tape out and check how much space the mattress would take up in your bedroom. Don't forget to check the route into your bedroom to make sure you'll be able to fit the bed through! The good news is that the box springs for a King always come as two pieces to allow for easier movement within your home!

Shop King Size Mattresses



Works for individuals or couples
Best for tall people over 6'2"

California King Bed (72" x 84")

Who is a California King Size Mattress Good For?

The California king size is 4 inches narrower than the standard king size, but it is also 4 inches longer than the king and queen size. Made for taller individuals and couples, this bed ensures that your feet won't hang over the edge of the bed. California King mattresses are a luxurious option, great for master bedrooms.

Cal King beds are usually priced the same as their regular king counterparts which means that they're the most expensive option available in most mattress collections. However, while all mattress models are made in a King size, not all of them are made in a Cal King size. The reason for this varies between each manufacturer but the most common reason is lack of interest in the size for the mattress comfort type.

It's important to choose a bed that fits your space. It's a good idea to get a measuring tape out and check how much space the mattress would take up in your bedroom. Don't forget to check the route into your bedroom to make sure you'll be able to fit the bed through! The good news is that the box springs for a Cal King always come as two pieces to allow for easier movement within your home!

The main difference from a regular King is that the California king bed is the longest of the standard mattress sizes. Its dimensions are 6 feet (72 inches) by 7 feet (84 inches) as opposed to the regular King's 76 inches by 80 inches. It's intended for tall people who want to ensure their feet don't hang off the bed. If you're over 6' 2", then you'll probably want the California king size for the extra length. For more information on the difference between the two mattress sizes you can check out our article, the Difference Between a King and a Cal King.

Shop California King Size Mattresses



Designed for couples
Most affordable size for couples

Queen Size Mattress (60" x 80")

How Big is a Queen Size Mattress?

As the most popular size, queen size beds have a suitable width for sharing and the length for most individuals. The queen size provides adequate space for most couples without taking up too much space in the room. If you're looking for a cost-effective and space-efficient bed, the queen size is the one you're looking for. At 5 feet wide and over 6 feet long, it fits two average-sized people nicely.

A queen is a common choice for a new mattress for couples because it's a cheaper option than a king, and many bedrooms don't have enough space so a king-size bed would be too big for the room. Pet lovers also like the queen size since it has extra room for their pets to sleep in the bed.

A queen-size mattress is one of the best mattresses for smaller guest bedrooms. They are also great for a single sleeper who is a taller individual and likes to sprawl out and needs extra space or legroom.

When comparing king vs queen, the main difference is the width of the mattress. A Queen measures 60" by 80" while a King measures 76" by 80". While they are the same length, the King offers an additional 16 inches of width. Another difference between the two sizes is the Queen box springs typically come in one piece, whereas the King box springs almost always have to be split into two pieces due to their size.

Shop Queen Size Mattresses



Designed for single sleepers
Wider than the Twin

Full Size Bed (53" x 75")

Who Uses Full Sized Mattresses?

Also known as a double bed, a full-size bed is big enough for a single sleeper who wants something more spacious than a twin. Full mattresses work well for active sleepers and children/teens during their transition years.

Full size mattresses are a popular upgrade for kids when they start to grow out of their twin size beds. It's a larger mattress that offers more sleeping surface for growing bodies and is really popular with teenage children. Fulls are also a popular option for adults who do not share their bed with a sleep partner.

Shop Full Size Mattresses



Designed for single sleepers
Most spacious standard mattress size for single sleepers

Full XL Mattress (53" x 80")

What Makes a Full XL Mattress Different?

Full XL mattresses are 5 inches longer than the full with the same width. This size works well for tall, active sleepers who want the largest size intended for single-person use. Full XL models cost the same as the couple-oriented queen size model.

The length of the mattress is the difference between a Full XL and a regular Full size mattress. A regular Full size mattress measures 54" wide by 75" tall while a Full XL mattress has an additional 5" inches in length, making it 54" wide by 80" tall. People who are 6-foot, 2-inches, and taller really will appreciate this mattress size.

The Full XL mattress size is popular amongst taller people who do not share their bed with a sleep partner. Because the Full XL is 6' 8" long it works well for taller people as most standard length mattresses are too short for them. Having the extra length to spread out without having their feet dangle off the edge is a nice feature. Additionally, most Full XL mattresses are priced identical to a regular Full size mattress so they don't have to pay extra for the added length!

Shop Full XL Size Mattresses



Designed for single sleepers
Most affordable standard mattress size

Twin Size Mattress (38" x 75")

Who are Twin Size Mattresses For?

Standard twin-size mattresses are the smallest and least expensive of the standard mattress sizes. The twin size works well for kids and adults who don't need a spacious sleeping surface and want extra room in the bedroom.

This size bed is most commonly seen in a child's bedroom as they grow into a toddler and out of their cribs and cradles. With the evolution of children's bedroom furniture so followed the evolution of the twin size mattress. Most models of mattresses offered by manufacturers are available in twin size. They range in comforts from a standard everyday twin with coils and some cushioning to the more opulent ultra pillow top models and can be anywhere from $100 to $2,000 in price.

Shop Twin Size Mattresses



Designed for single sleepers
Most affordable size for tall individuals

Twin XL Mattress (38" x 80")

What is a Twin XL Mattress?

Twin XL mattresses are 5 inches longer than the twin size with the same width. Popular in dorm rooms, twin XL mattresses are intended for tall individuals who are not active sleepers and want a mattress that won"t take up a lot of space in their bedroom. This size is recommended for growing teens or tall adults looking to save space and money. Twin XL mattresses were created for two reasons, to offer added length for taller people, and to serve as one half of a split king bed. In the second case, the split king, sleep partners often prefer two different comfort types so they opt to have two different Twin XL mattresses put together to create the King size look, but still be optimal for each sleeper's comfort preferences. Additionally, the split king option allows the use of adjustable bases so that each person can adjust their bed to their individual preferences.

Shop Twin XL Size Mattresses



Custom width and length
Made to order

Custom Size Mattresses

There are mattresses that exist outside of these seven standard mattress sizes. Custom mattresses are made to fit antique bed frames, RVs, and more. US-Mattress allows you to custom order mattresses to fit your sleeping needs.

Shop Custom Size Mattresses
Mattress Size Comparisons
Stuck between two sizes? Read more about the differences between these bed sizes to help you determine what mattress dimensions would work best for you. Remember to keep in mind your room size as well as your needs and preferences.
Queen vs King Size
While many couples comfortably share a queen bed, some may feel that it's not enough space, and would prefer a king-size. A king bed is the same length as a queen but is typically 16 inches wider. This gives more room if you're finding yourself sleeping right at the edge of your queen mattress. If you have a partner (or maybe kids or a pet!) who moves around a lot, the extra width on a king can be really helpful for getting restful sleep.
A queen size is better when you need to save some floor space in your bedroom. If you have a small space, a King might feel clunky and oversized. Take measurements of your room, keeping in mind that you need to leave space for walkways.
Full vs Queen Size
A full mattress (double bed) is 5 inches shorter than a queen and 7 inches narrower. While some couples may sleep successfully on a full bed, it can feel a bit crowded. Full mattresses are best for single sleepers who want something bigger than a twin size. Also, many people like to buy a full for their guest room since they're a bit smaller and cheaper.
If you sleep with a partner, your best bet is to go with a queen-size or larger. Your sleep quality will be much better if you have room for some movement.
Full vs Full XL
A full xl mattress is an inch wider than a full and 5 inches longer. It's a great option for tall sleepers who do not share a bed. A bit narrower than a queen (same length), a Full XL mattress is great for saving some floor space, but without being too narrow for an adult. If you like the full size but want to make sure your feet don't hang off the end, the Full XL size is the way to go.
Twin XL vs Full
Twin XL mattresses are commonly found in college dorm rooms because they're long enough for adults to sleep on but can be used on bunk beds to save space. They are longer than a full mattress by 5 inches and narrower than a full by 15 inches. Full beds are great for small bedrooms because they feel more luxurious than a twin or twin xl but don't take up as much space as larger sizes.
Twin vs Full Mattress
Twin mattresses and full mattresses are the same lengths at 75 inches but a full is 15 inches wider. This provides more space for single adults, while twin mattresses are great for kids.
Twin vs Twin XL
A twin XL mattress is the same width as a twin but 5 inches of extra length. This makes it more sleepable for tall kids or adults, which is why dorm rooms usually go with a twin xl rather than a twin.
---
FAQs and Resources
What size is a futon mattress?
Usually, a futon mattress comes in full-size (54" x 75"). However, you can order them in other sizes as well, although they may be more difficult to find.

What size is a crib mattress?
A standard size crib mattress is 27 and ¼ inches wide by 51 and ¼ inches long, with a maximum thickness of six inches. This is recommended by federal safety guidelines. There are also mini-cribs and cribs with different shapes that have different dimensions.

What is the biggest mattress size?
The largest standard size is the Alaskan King bed, which measures 108 inches by 108 inches. You can order custom sizes larger than this. The Alaskan King isn't very common, so the next largest are Cal King and King beds. Kings are wider than California King beds but not as long.

What size bed do most couples sleep on?
The most popular mattress sizes for couples are queens and kings.
Please note: all mattress manufacturers work on a 1-inch tolerance (except Corsicana, they have a 2-inch tolerance). Bed dimensions listed above could be up to 1-inch shorter and/or narrower than specified.
---
About the Author, Juliana Huhta, Mattress Expert
Juliana Huhta, Mattress Expert
Juliana has spent several years in the mattress industry, writing about and reviewing mattresses. She has a deep understanding of how mattresses work for different people and affect sleep.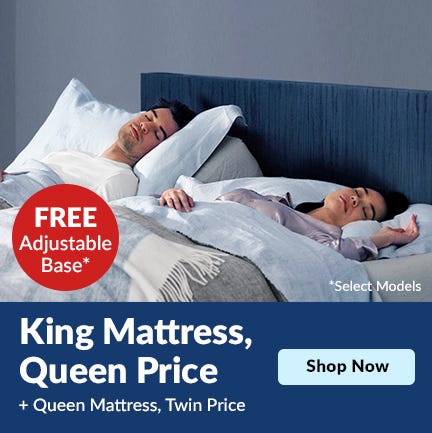 Sign up for exclusive deals & more!