When to Upgrade to a King
Should You Get a King Size Bed?
If you think about it, we can mark significant periods of our lives by what kind of bed we were sleeping on. When we're born, our parents bring us home and we spend the next two to three years sleeping in a crib. After we outgrow the crib, most of us transition into a twin mattress for the next decade or longer. In our teens, many of us move up to a full-size mattress and appreciate the extra room while we sleep. In our 20s, when we strike out on our own, many of us buy a queen mattress and end up sharing that bed with a partner.
But what about a king-size? When do most sleepers upgrade to the ultimate mattress size? It's not as easy to know when it's time to upgrade to a king. There are a few indicators that signal when you should get a king-sized bed though.
Reasons to Upgrade to a King
Queen Feels Too Small
Many people argue that a queen-size mattress has more than enough room for two people. While this might be true, not all sleepers are the same.
In some instances, a person might share their bed with someone who moves around a lot through the night. Or one or more of the people sharing the bed are larger-sized people who like to sprawl out.
Do you find yourself at the edge of the mattress? When a queen is feeling cramped, a king-size bed could be the answer. It's 16" wider than a queen, so you'll have more room to spread out. 
Kids or Pets Join You at Night
If you allow your pets to sleep in your bed, you're probably familiar with the surprising amount of room their little bodies take up. Somehow a tiny cat can manage to make a queen feel too small. And if you have a large dog, you might be falling off the edge of the bed! With a king, you'll have plenty of room for your furry friends.
Parents sometimes have young children who crawl into their bed when frightened. This can disturb your sleep if they end up taking up the whole mattress. A king will be sizable enough to fit your children without being too crowded. Family cuddles will be easily accommodated on a king bed.
You're a Restless Sleeper
If you tend to move around a lot at night, a king may be more comfortable for you. There's less chance of rolling too close to the edge and plenty of space to shift around. This is especially true if you have a partner, you're much less likely to disturb them with your movement if you have the extra room that a king provides.
You Have the Space
Space is the key reason most people upgrade to king-size beds. Having a spacious bedroom with a king in it also looks more aesthetically pleasing. The main idea is that a king bed is all about space. Having more space to sleep on, and filling negative space in your bedroom. Having ample space to sleep on your mattress without sacrificing comfort. This is one of the best reasons to upgrade to a king mattress.
Different Comfort Preferences
If you sleep with a partner but one of you likes firm and the other wants something softer, it can be hard to agree on a mattress. Luckily, you don't have to if you go with a split king bed. Two twin xl mattresses make the size of a king. You can each choose the mattress you want and push them together on a king foundation. There are even split king adjustable bases if you want to have the benefits of an adjustable base without being stuck with your partner's choice of elevation.
You Want Lasting Luxury
A king bed offers a luxurious feel with its spaciousness. This extra space also offers benefit you may not have thought of. Your mattress may last longer when you buy a king because the space you sleep on is less concentrated, so it reduces the wear on the comfort materials. Especially if you are regularly rotating the mattress, you can get some extra comfort life out of a king that you may not get with a smaller size.
Ready to Invest
You may have many reasons to invest in a king, but you also need to have the means. If your budget does not allow it, a queen can perform well at a lower price than a king. Sheets, blankets, and other accessories are more expensive for king beds. However, if you have the money, it may be time to upgrade to a king mattress.
Type of King Bed
Once you've decided to move up in size, you'll have to figure out the specifics. There are two types of king beds - the normal King size and the California King size. To compare the two, check out our California King vs King Bed Sizes article.
Within the king-size (and Cal king size), there are also split options. Check out our article on the difference between a divided king and a split king. The split king often comes into play when you get an adjustable base as your foundation if you want to be able to move the bed separately from your partner. It can also be useful if you have different comfort preferences.
Still Not Sure? Talk to an Expert
If you'd like some assistance deciding whether a king mattress is right for you, give us a call at 1-800-455-1052 or use our live chat feature. You can speak with a mattress expert who will understand king-size dimensions compared to other sizes and what usually works for people in different situations.
About the Author, Dave Higgins, Mattress Expert
Dave has worked in the furniture business, focusing on mattresses, for several years. His focus on mattress industry trends and developments has led to a deeper understanding of how people sleep and how they perceive comfort.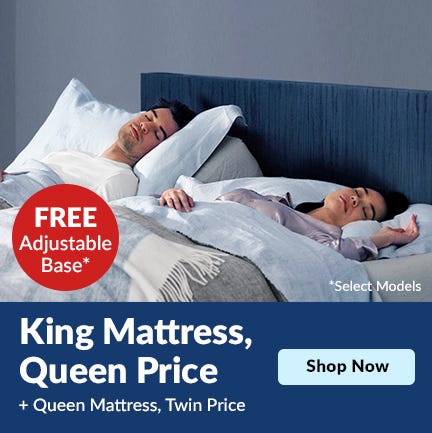 Sign up for exclusive deals & more!