Euro Top vs Pillow Top Mattresses
Updated September 29, 2023
The difference between a pillow top and a euro top mattress is that the euro top style has the sides sewn up straight to the top while a pillow top has an indent at the top which gives it that 'pillow' look. It can be difficult to tell the difference if you don't know what to look for.
The two types of mattresses are more similar than they are different. Euro tops are actually a type of pillow top. The minor visual difference between the two is the only way you'd be able to tell without inspecting the bed's inner layers.
This page will explain the difference to help you decide which one is the best mattress for you. 
What is a Pillow Top Mattress?
A pillow top mattress has an extra layer of cushioning at the very top of the mattress which is sewn into a pocket that gives it that pillow look. This type of mattress gained popularity because it offered greater comfort while also providing motion isolation. Over the years mattress manufacturers have made a wide range of comfort types available in pillow top construction. The drawback is that they tend to retain heat more than other models and can be too tall for some sleepers. The additional padding is usually made from memory foam to make the top comfort layer have the feel of a memory foam mattress. 
They are most commonly used on innerspring mattresses. The purpose is to simply give an additional layer to comfort because sometimes the surface of the mattress for innerspring may not provide high-quality comfort or pressure relief for some people. The top of your mattress will be softer with a pillow top so do not buy one if you like the firmer feel of an innerspring mattress. 
What is a Euro Top Mattress?
Euro top mattresses have an extra layer of material placed on the top layer and the edges of the mattress get sewn straight up and down with no indent. Because the extra material gets stitched underneath the mattress cover, it can't shift or lose shape the way a conventional pillow top can. Their popularity comes from the more secure material and cleaner look when compared to a pillow top model. Eurotop models also offer multiple degrees of firmness and softness depending on what you prefer. 
Edge support is a little better on euro tops because it is secured beneath the cover with no gap between the pillow top and the mattress. This means you'll feel more held up when sleeping near the edge, instead of feeling as though you may roll off.
This mattress topper tends to be more durable because of the extra layer of padding it adds. They are denser because they are packed with more quality materials designed to give you better sleep. They will also have a better contouring ability but they tend to have a higher price point. 
Pillow Top vs Euro Top - the Differences
​
| Pillow Top | Euro Top |
| --- | --- |
| | |
| Small gap between the padding layer and the mattress top | Flush between the padding layer and the mattress top |
| Less durable | More durable |
| Costs more than tight top | Costs more than tight top, sometimes more than pillow top |
| Softer than euro top or tight top | Softer than tight top, slightly firmer than pillow top |
| Lacks edge support | Better edge support than pillow top |
Euro Top vs Pillow Top vs Tight Top
Another variation of an innerspring bed is the tight top mattress. This is the classic style, with no pillow top. Instead of having a thick layer of cushioning, there's a layer of some type of fabric stretched tightly over the coils and padding. This typically results in a firmer, bouncier feel. You'll be closer to the coil system than with a pillow top or euro top.
The tight top mattress style can be great for people who want a firmer feel, need more responsiveness, or do not like sinking into their mattress. Especially for heavier sleepers, a tight top can provide better spinal alignment, since you're closer to the coils. This depends on the quality of the foams in the mattress you're comparing to, as better foams can provide good spinal alignment as well, especially memory foam.
Conclusion
A euro top is a type of pillow top, which has a few benefits over the classic style. Euro pillow-top mattresses can be a bit more durable because the pillow top is secured underneath the cover. You may not even notice the euro top when looking at the mattress, but it'll add more cushioning to the mattress like a normal pillow top does. Sheets will go more smoothly over a euro-top mattress, without the lump you may see with a pillow top.
When deciding between a euro top mattress vs pillow top mattress, know that there isn't a huge difference. Both options add comfort for back sleepers and side sleepers. The euro style is generally a bit more durable and has better edge support, as well as a more streamlined look. They can be a bit more expensive than the traditional style.
Now that you know the difference, are you ready to shop?
Need More Help?
The mattress experts at US-Mattress can help you decide what mattress is best for you. Call 800-455-1052 for expert help in deciding on a new bed. Or, if you prefer to stay online, you can live chat with one of our mattress experts in the link at the bottom right of this page.
About the Author, Juliana Huhta, Mattress Expert
Juliana has spent several years in the mattress industry, writing about and reviewing mattresses. She has a deep understanding of how mattresses work for different people and affect sleep.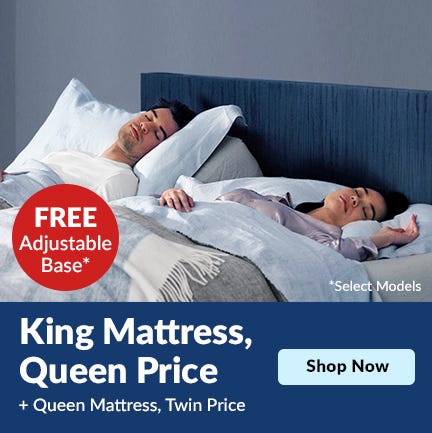 Sign up for exclusive deals & more!