Best Mattresses 2023 - Top 10
Updated September 19, 2023
While the best mattress for you is the one that addresses all your needs and preferences while fitting into your budget, we think that the mattresses here will fit that bill for many people. They're high quality, provide excellent support, include high-quality comfort materials, and have great features.
Consider the firmness you like in a mattress, the health conditions or pain you deal with, your sleeping position, materials you like (such as memory foam), and your budget. These are the top ten mattresses of 2023 according to US-Mattress, in a variety of categories.

Industry Leading Comfort Materials
SealyCool Gel Foam Center 1/3
Sealy Response Pro Encased Coil
Five different layers of cooling materials
Medium feel
The Sealy Posturepedic Cooper Mountain Medium Pillow Top Mattress is our pick for the Best Overall Mattress. With five separate layers of cooling materials to keep you cool at night, this is one of the best cooling mattresses on the market. Add that to the supportive Pro Encased Coils with a DuraFlex Coil Edge and this mattress is one of the best for back support and pressure relief.
Sealy did a fantastic job of creating a pillowtop mattress by incorporating memory foam with an innerspring system for maximum durability and cushioning. The medium-firm feel will be supportive and comfortable for the widest range of people.

Made with almost all premium materials
Ideal for nearly all body types
Super soft pillowtop comfort
Good cooling comfort
Committed to environmental responsibility
This mattress is the softest bed on this list coming in at a 9 out of 10 on our comfort scale. This is one of the softest pillow top beds available from Beautyrest, which makes it pressure-relieving on your hips and shoulders. Considering the soft feel and the high quality you can expect from an upper-end Beautyrest mattress, it's obvious why we chose this as the Best Mattress for Side Sleepers.
With an advanced T2 coil system, high quality foams, and diamond particles that conduct heat to regulate your temperature, this bed performs at a high level. The several layers of high quality memory foam will keep you from tossing and turning so you can get a great night of sleep.
The newly created Reactex® System contains three layers of cooling technology
CustomFit™ High-Density Memory Foam
Serta Micro Hybrid Coil™
Proprietary Foam for All Night Cooling
The Most Innovative Mattress for 2023 is the Arctic Premier Hybrid Plush. Serta really took the design of this mattress to the next level by combining so many unique features which were compiled based on customers' requests. To begin with, the Reactex® System consists of three different layers of cooling technology with each layer having more cooling capacity than the previous layer.
From there we get into the main foam layers, specifically the Deep Reaction® Max Gel Memory Foam and the CustomFit™ HD Memory Foam both of which are best for body contouring and back support.
The greatest innovation in this mattress is the Micro Hybrid Coils™ that sit atop the 1025 Hybrid Support System™ which aids the transition between relaxing comfort and all-night support. This mattress really has us excited for its innovation, thoughtfulness to customer critiques and needs, and the fact that it's a high-end hybrid mattress.
Best flippable mattress
Two sides help to extend mattress life
Designed to copy mattress styles in hotels
Top Seller
It was no surprise to our mattress experts that the Concierge Suite Euro Pillow Top Double Sided Mattress was selected as the best flippable mattress. Serta has long been known to keep the double-sided bed market alive with careful attention to dual-sided comfort that is the same for years to come. Double-sided mattresses are known for their longevity because they're moved every three months between turning and flipping the bed.
Serta also chose to represent the types of mattresses commonly found in hotels so that people who have the best night's sleep in a hotel can find the mattress that's right for them to have in their homes. The Concierge Suite is certainly the best double sided mattress of 2023, of that there is no doubt!

Tons of luxury materials used in its construction
Premium foams for maximum comfort
Fully recommended for all sleep positions and body sizes
Part of a recently upgraded line
The most recognizable name in luxury mattresses today
The Stearns & Foster brand name has long been associated with the highest levels of luxury bedding for many years. As such, it came as no shock to our team that the Lux Estate Medium Pillow Top Mattress was selected as the best luxury mattress. Layers of gel foam with an additional layers of memory foam sit on top of one of the most advanced coils ever created for mattresses, the IntelliCoil HD.
Add to that the stylish appointments like hand-sewed tufting, six velvet inlay handles, and a vent system for cooling and this was the obvious choice the best luxury bed of 2023. We can easily say that this is the most luxurious mattress offered in the current bedding market!

High end of a good quality brand
Features four handles for easy moving
Great back support with pocketed coils
True firm feel
This mattress was designed by the Scott Brothers, with luxury in mind. It provides that firm feel you're looking for without sacrificing any quality. You can count on years of durable support and comfort.
It also works with any type of mattress, so you can use an adjustable base to further increase your comfort and convenience if you choose.

Max Cool Cover
Carbon Fiber Memory Foam
UltraCool Phase Change Material
From Serta, a trusted brand
Serta really surprised our mattress experts this year by getting three different mattresses into the Top Ten Mattresses of 2023. Coming in at number seven, the Best Memory Foam Mattress is the iComfort CF4000 Plush Mattress. The surprise here is that Serta was able to unseat other brands more recognized for their memory foam models. What's not surprising is that Serta packed this mattress with the best memory foams that they have to offer - carbon fiber memory foam and UltraCool PCM.
Memory foam mattresses are thought to sleep hotter than most other styles of mattress which is one reason why this model was selected for this entry on our list. Every layer of material from the max cool cover to all of the memory foams within the bed is designed to draw excess heat away from your body so you sleep cooler.
Let's not forget that this bed also contours to your body for that excellent pressure relief that memory foam beds are so well known for providing. So, dethroning past memory foam models this year's pick for the best memory foam bed is Serta's iComfort CF4000 Plush Mattress.
Premium memory foams
Sealy's best coil system
Cooling features
A popular brand, well trusted
Our selection for the best hybrid mattress is the Brenham Soft from Sealy's Posturepedic Plus collection. This mattress exemplifies all the best characteristics of a hybrid mattress thanks to Sealy using the highest quality materials to build this bed. From the bottom up, this bed starts with the stable support of Pro Zoned HD Encased Coils which give you great back support.
These are topped by layers of gel foam, which add support and keep things nice and cool. Just under the cover, there are 3 inches of premium memory foam, which contours to your body. The cover provides immediate cooling with cooling fibers and antimicrobial technology.
Hybrid beds were originally created to give people the best of both traditional innerspring mattresses and the newer memory foam models. The Brenham Soft performs excellently well in both of these aspects. If you're you're looking for the best hybrid bed for 2023, look no further than the Sealy Posturepedic Plus Hybrid Brenham Soft mattress.
Every layer is designed with cooling technology
Removable, washable cover
High-quality, premium materials throughout
Proprietary Tempur Foam
Tempurpedic was bumped out of its traditional spot for best memory foam and has moved into the slot for the best mattress for cooling of 2023. The Tempur Luxe Breeze Firm takes this spot mainly because every single material used in its construction has some type of cooling technology incorporated into it. Even the SmartClimate Max Dual Cover, which can be removed for washing, has cooling features.
PureCool+ Phase Change Material and Ventilated TEMPUR APR Material are some of the foam layers that Tempurpedic has redesigned to add cooling features for this year. You will not find a greater amount of cooling materials in a mattress than the Luxe Breeze Firm which makes this mattress the best mattress for temperature regulation of the year.

Pressure testing confirms excellent back support
Medium comfort is ideal for all body types and sleep positions
T3 Pocketed Coil System (Beautyrest's top-of-the-line system) provides targeted back support
BeautyEdge Foam is a nice choice if it's painful to get into/out of bed
Many people suffer from back pain for a variety of reasons, and one of the main places where that pain is amplified is when they're laying in bed. The best bed for back pain is the one that will alleviate as much of the tension and pressure that people experience while laying in bed. The C Class Plush Pillow Top Mattress has many layers of high-quality materials that work together to cradle your body and provide proper spinal support for maximum comfort.
Many customer testimonials confirm this assessment and agree that their back pain was at least alleviated if not completely resolved with this mattress. We encourage you to consider the C Class Plush Pillowtop as an excellent choice if you're dealing with back pain.
It's important to find a mattress that works well for back pain because getting extra sleep can reduce chronic pain. Aside from the mattress, an adjustable base can be a game changer for reducing back pain.
---
About the Author, Dave Higgins, Mattress Expert
Dave has worked in the furniture business, focusing on mattresses, for several years. His focus on mattress industry trends and developments has led to a deeper understanding of how people sleep and how they perceive comfort.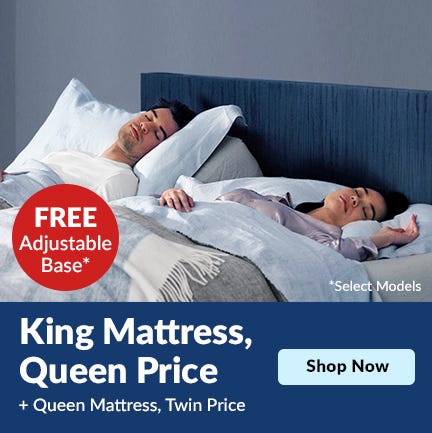 Sign up for exclusive deals & more!