What's the Difference Between a Standard (Eastern) King vs California King Bed?
Updated September 22, 2023
Cal King vs King Mattresses
The main difference between king and California king beds is the length and width. A standard king (also sometimes known as an Eastern King) is shorter and wider, measuring 76 inches wide and 80 inches long.
So, what is a California King? Well, the California King mattress size is narrower and longer than a standard King, measuring 72 inches wide by 84 inches long.
While every mattress is made in a king-size, not every mattress is available in a California king size. Additionally, the standard king has more options for bedding accessories. Things like box springs, sheets, bed frames, adjustable bases, and comforters.
Which size is best for you?
When comparing the eastern king vs California king mattress sizes, there are a few things to keep in mind.
Height and Body Type
The California king bed is the longest of the standard mattress sizes. It's intended for tall people who want to ensure their feet don't hang off the bed. If you're over 6' 2", then you'll probably want the California king size for the extra length.
With the California King dimensions being 6 feet (72 inches) by 7 feet (84 inches), they're really ideal for taller people. The California King bed size mattresses work well for taller people who like to sprawl out as well.
Your Lifestyle
The regular King bed size is the widest of the standard mattress sizes. It gives you more shoulder room to sleep comfortably with your partner. The extra width of a king mattress would give you all the space you need.
People who have kids or pets joining them in bed may also find the wider size preferable. Perhaps your sleeping partner radiates a lot of heat at night and you need to get some distance from them - you'll have more room to do so on a King. 
If you have a pet that sleeps at the foot of the bed, the extra length of the Cal King may be helpful for avoiding disturbances such as kicking your dog in the middle of the night by accident. Your pet will surely be grateful.
Sleep Position
If you often end up sleeping sideways or like a starfish, you might want to go with the wider option - the standard King size. Think about how you sleep and choose the size that will accommodate you instead of trying to change how you sleep to your bed size.
Room Size
It's important to choose a bed that fits your space. It's a good idea to get a measuring tape out and check how much space the mattress would take up in your bedroom. Don't forget to check the route into your bedroom to make sure you'll be able to fit the bed through! Make sure you get the right size bed frame as well, a King would not fit on a Cal King bed frame and vice versa.
We'll Help You Shop
Can't decide? Still have questions about California King vs King mattresses? Feel free to give us a call at 1-800-455-1052 to speak to our team of experts. They can assist you in choosing which size is the right one for you. If you prefer, you can also click the chat button on the bottom right and be immediately connected with one of our mattress experts.
Why US-Mattress?
You can count on finding the right mattress when you shop with US-Mattress. If you buy a mattress from us, you get 120 nights to decide if it's the right match for you or not. If you're not happy with it we will exchange or refund it.
Take advantage of our free shipping, low-price guarantee, and 120-night in-home trial to get the mattress of your dreams at a price you can afford. We offer plenty of information and have a team ready to make it easy for you.
About the Author, Juliana Huhta, Mattress Expert
Juliana has spent several years in the mattress industry, writing about and reviewing mattresses. She has a deep understanding of how mattresses work for different people and affect sleep.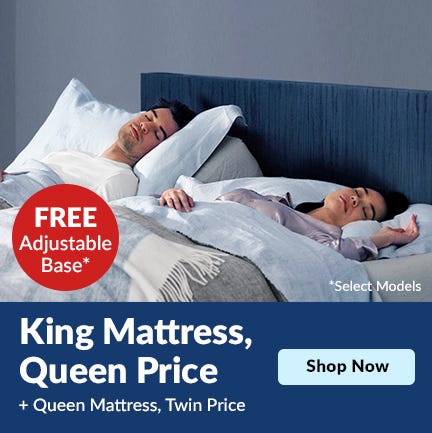 Sign up for exclusive deals & more!