Mattress Durability
Updated October 5, 2023
What Makes a Mattress Durable?
A high-quality mattress should be able to hold its shape and support for several years. One of the biggest factors that determine the durability of a mattress is the material from which it is made. Mattresses that give out after a few short years are made with cheap materials and mattresses that last 10 or more years are made with much higher quality materials; however, these will cost more.
This page will discuss some of the other factors that contribute to mattress durability. It will discuss some things you can do to make your mattress last longer. It will also discuss the four most durable mattress types.
Making Your Mattress Last Longer
Once you buy your mattress, there are elements that are out of your control when it comes to durability. The material type and density will play a large role in how many years you get from your mattress. There are a few things you can do to make your mattress last longer. Here are some tips that can help you
Rotate Your Mattress
Eventually, every mattress develops body impressions. As the comfort materials in a mattress are compressed over time, they slowly lose the ability to return to their original shape. In a similar way that new shoes feel stiff at first, and then slowly form to your feet, your mattress will slowly conform to the shape of your body. By rotating your mattress every three months (especially during the first year), you can promote even wear of the comfort materials. Distributing wear over more areas of the mattress will help to ensure that your mattress remains free from excessive body indentations.
Use a Mattress Protector
This is essential! Using a waterproof mattress protector keeps sweat, dirt, and more out of your mattress. The foams will break down prematurely without a protector, the salt in sweat shreds them right up. A protector keeps your mattress much fresher for the time that you have it. Shop protectors »
Clean Your Bedsheets
Your bedsheets can provide a thin barrier that can protect your mattress. Your sheets soak up sweat and other bodily fluids. Wash your sheets once every two weeks to keep them clean. You should also wash the mattress cover and the mattress itself with a vacuum. Keeping your mattress clean will help it preserve its shape and comfort.
No Food
Some people enjoy having some sort of food or drink while laying in bed. Unfortunately, this can lead to having crumbs beneath the sheets. This can turn your bed into a breeding ground for bacteria, fungi, and bugs.
Be Wary of Pets
While there are mental health benefits to sleeping with your pet, they can shed, slobber, or have accidents on the bed. If your pet does not have any issues, they should be fine, if they do consider making them sleep in their own bed.
Avoid Bed Bugs
Keeping your mattress and sheets clean is the best way to keep bed bugs away. You would also benefit from buying a bug-proof mattress encasement or mattress protector. To look for bed bugs, check for red stains, dark dots, eggshells, and live bugs.
Most Durable Mattress
As mentioned earlier, certain types of mattress materials will provide different types of durability. Quality materials will provide a higher quality mattress Here is a list of four different mattress types based on the durability they provide.
Over time, memory foam can sag or leave body impressions and lose support. Most foam mattresses will last about 10 years if you take proper care of them. The main types are traditional, plant-based, and gel memory foam. A higher-quality memory foam mattress can last up to 15 years. This type of mattress foam will leave slight indentations which are normal, just watch for extreme sagging or larger indents.
Innerspring
This type of mattress uses pocketed coils to contour to pressure points which tends to have a shorter lifespan. These are also the cheapest type of mattresses on average. To learn more about prices and mattress quality check out our page The Real Cost of a Mattress. Innerspring mattresses typically last around six years. They can last 10 if the mattress is flippable.
Innerspring mattresses come in Eurotop and pillow top. These will provide different comfortability but Eurotop is more durable Always check the mattress topper when buying a new mattress.
Latex
A latex mattress is considered the most durable type of mattress. It has an average lifespan of 15 years. Because of its durability, it is typically more expensive than others.
The best type of latex is natural latex because it is the most durable. Watch out for synthetic variations because they have shorter lifespans. There are hybrids of natural and synthetic available, they are cheaper but do not last as long as all-natural. 
Hybrid
This type of mattress typically combines an innerspring support system with foam or latex. There are a wide variety of hybrid mattresses so you should always check what kind of materials are in the mattress. On average hybrids last no longer than 10 years.
Related: What is a Hybrid Mattress?
Finding a Durable Mattress
One of the best things to look at when finding the best mattress is the construction of the mattress. Density is very important when shopping for a memory foam mattress. Low density wears out much faster than high density.
For latex, density is not as important, but it still plays a factor. For hybrid mattresses, it is important to check the material as mentioned earlier. If the material is mostly latex, it likely has high durability, if it's mostly foam, check the density. For a hybrid with innerspring, pay attention to the coil gauge. The thickest is 12 and the thinnest is rated 18. A 12 gives the maximum support for people who need it.
More Factors to Consider
Here are some additional factors to consider when deciding to buy your next mattress. Here are other important factors to consider when choosing a mattress.
Body Type and Weight
If you are a larger person, you may wear your mattress down faster than someone who is smaller. You will need firmer support. Depending on your size, you should pay attention to the thickness of the mattress. The bigger you are, the thicker and denser your mattress should be.
For smaller people, a mattress with a low density will work better. A mattress with memory foam in the comfort layer will conform best to a small person's body. A smaller person has an advantage because they can buy a thinner mattress without wearing it out.
Firmness
Depending on your sleep position, you will need a different type of mattress. A mattress's firmness levels are ranked 1-10 on a comfort scale. 1 being firmest and 10 being softest. Side sleepers will need a decent amount of cushion. A soft mattress helps to provide pressure relief to your shoulder.
For back sleepers, you might choose a firm mattress to keep from sinking too deep into the mattress. Back sleepers do not need a mattress to wrap around them but to hold their body weight and prevent back pain. Back sleepers are recommended to purchase a firm to a medium-firm mattress.
Stomach sleepers need to lay in a straight line when they sleep. For support, stomach sleepers should choose a firm mattress to keep them in place.
Warranty
Mattress Warranties are usually a great indicator to determine if the mattress company has confidence in the durability of its mattress. A longer warranty will usually mean that the mattress will last longer. Always double-check because the warranty could vary among mattress brands.
Your Partner
If there are two people sharing one bed, it will mean more weight which can affect its lifespan. A slightly firmer mattress is recommended for couples but it depends on you and your partner's preferences. Do not forget to pick a mattress with motion isolation so that you do not wake each other.
Bed Frame
A high-quality bed frame will add years to the lifespan of your mattress. Too hard of a bed frame will simply wear it down faster.
How Long Will My New Mattress Last?
The quantity and quality of the comfort materials used in a mattress determine how the mattress feels, and also how long it will retain its original feel. Keep in mind that the lowest-priced mattresses don't necessarily have the best value. Often, paying more money upfront for a high-quality mattress will save you money in the long term since the more expensive mattresses will retain their original level of comfort for a longer period of time. Watch our video: How Long Will My Mattress Last?
Check the warranty. Although this is not a guarantee, a longer warranty indicates a longer-lasting mattress.

Look at the comfort materials. Mattresses that contain memory foam, latex, and gel memory foam last longer than ones with polyurethane foam.

Consider the construction. Coils are a longer-lasting support system than foam.
Is it Normal to See Body Impressions on a Mattress?
At US-Mattress, we commonly hear from past customers who are concerned about body impressions developing on their mattresses. This is a natural concern to have, as a cavity on the surface of a mattress can signal a manufacturing defect. However, every body impression isn't an indication of faulty wear.
If you are seeing deep body impressions in a new mattress, this is likely a defect and you should submit a warranty claim. However, if you've had the mattress for a while, it is normal for the materials to start compressing where you sleep. You can prevent this from getting as bad by rotating your mattress regularly. Every few months, turn your mattress from head to foot. This is especially important in the first year.
Conclusion
Remember that the material that your mattress is made from is a major factor. Making sure your mattress is made from high-quality material will ensure that you enjoy a comfortable night's sleep for many years. Natural latex is the most durable but it is also the most expensive.
If you are buying a cheaper mattress, there are other things you can do to expand the lifespan of your mattress. Make sure it's clean, use a protector, rotate it regularly, and place it on the proper supportive foundation. You could even put a mattress topper on it to add some additional padding that you can switch up more frequently.
About the Author Steven Bieber
Steven is a content writer who recently broke into the mattress industry. In his free time, he enjoys watching football and listening to music.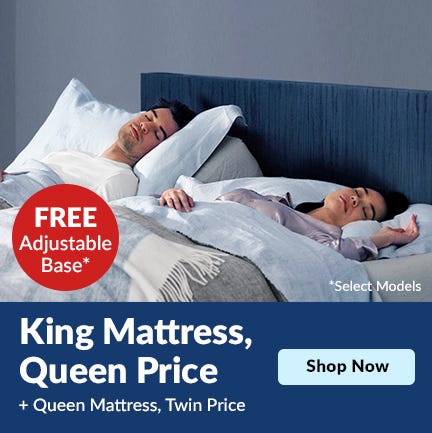 Sign up for exclusive deals & more!