Can You Put a Box Spring on a Platform Bed?

What is a Platform Bed?
A platform bed is a type of bed frame that adds mattress supports the mattress with either a flat sheet of solid wood or slats, often containing storage drawers underneath. Platforms beds are compatible with different types of mattresses different styles but what they all have in common is that they can support a mattress without a box spring. This page will tell you everything you need to know about platform beds. 
To give you an idea of some of the different types of platform bed frames, there are solid platform beds, which have no clearance underneath. Floating platform beds appear to be suspended because the support is in the center with no legs that you can see. There are also metal platform beds, which are often the cheapest and easiest to set up, as well as being very durable.  
Storage platform beds are nice for those who need to store clothes or other items in their bedroom, they have drawers or they open from the top. Storage platforms beds are nice for those who need extra storage space to store clothes of other items in their bedroom, they have drawers or they open from the top. Some platform beds add a headboard and/or footboard for added style. The options are endless! 
There are also different types of bases, the part that supports the mattress. Most commonly, you'll find platform beds with a slatted base. These can be different widths apart, so it's important to take note of that when deciding on a mattress and how to support it.
If the wooden slats are further than 6 inches apart, for example, it's not recommended to place a memory foam mattress directly on it. Slatted bases are good for air circulation in comparison to solid bases or bunkie boards. A solid base is exactly what it sounds like, a flat sheet typically made out of wood.
Platform Beds Don't Need a Special Mattress
Every mattress should work on a platform bed. Box springs are not necessary like they are with normal bed frames. If the bed height is comfortable for you and the mattress is properly supported, you don't need a box spring (just check the mattress warranty). Platform beds are sturdy and give enough support from either a flat sheet of wood or slats.
Best Mattresses for a Platform Bed
While nearly every mattress available can be paired with a platform bed, there are some things to consider. For instance, traditional innerspring beds typically do better with a box spring, and many warranties require one. While you can place a box spring on a platform bed in some cases, it will raise the height considerably and may not work with every platform bed.
Memory foam mattresses are a great option for platform beds, but you need to make sure that the platform bed has a stable support system. Memory foam mattress warranties will often require the platform to be solid. It's not recommended to place a memory foam mattress directly on a platform bed if the slats are more than 6 inches apart. If that is the case, you'll want to pair it with some type of box spring or bunkie board to ensure proper support. If you think your mattress needs added support, you should add a foundation to it for insurance.
Hybrid mattresses will also work well with a platform bed, as will latex beds. The most important consideration is making sure your mattress is well-supported. As long as you have the right support, the platform bed will not cause issues like back pain. Also, make sure to follow your warranty or it may be voided.
Find your platform bed mattress
Box Springs With Platform Beds
Although you can use a box spring on a platform bed, you probably don't need one. The decision comes down to whether you feel you need extra support and if you like the additional height. In most cases, you can use any box spring you wish on a platform bed. If you already have a box spring that you plan to use with a new platform bed, you should measure it to be sure it will fit properly.
Your bed height may feel too tall if you combine a platform bed with a standard box spring. If you do need to buy a foundation, there are options that won't add a lot of height. Low-profile foundations or bunkie boards will support the mattress as well as a standard box spring would.
A mattress and platform bed combo will usually sit lower than a traditional bed, box spring, and mattress set. So, for people who actually prefer a higher bed, you could use a box spring to achieve that. This is one of the only reasons to use a box spring. Platform beds use slates or a deck to provide the same flat, supportive surface as a foundation. Using the two together won't improve the comfort or longevity of the mattress. The key point is making sure your mattress is supported.
For more information on how to choose your box spring, read Box Spring Guide
FAQs
Can you put a box spring on a platform bed?
You can put a box spring on a platform bed if you'd like to although it's unnecessary.

Do you need a box spring with a platform bed?
No, platform beds do not need a box spring or additional support, they provide enough support for the mattress on their own.

Can you use a regular mattress on a platform bed?
Yes, you can use just about any mattress on a platform bed as long as the slats are close enough together to provide proper support. However, you should check your warranty to make sure it doesn't require a box spring. It's also important to note that some innerspring mattresses work better with a box spring.

How do you raise a mattress on a platform bed?
You can add a box spring for height or you can buy a taller platform bed. Another solution is to buy bed raisers that you can add under each leg to make the bed taller.
We're Here to Help
If you're still unsure what to do, feel free to give us a call at 1-800-455-1052. Our team of friendly mattress experts will be happy to answer any of your questions about box springs and platform beds.
You can also use our live chat by clicking on the purple "Chat" bubble.
About the Author, Juliana Huhta, Mattress Expert

Juliana has spent several years in the mattress industry, writing about and reviewing mattresses. She has a deep understanding of how mattresses work for different people and affect sleep.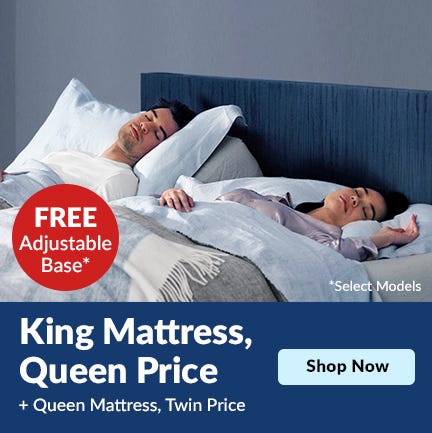 Sign up for exclusive deals & more!